TASTE OF SOUTH LAKE
JOINS ART WEEKEND AND CELEBRATES THE
ART OF FOOD!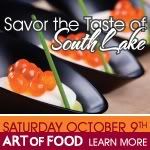 On Saturday, October 9, 2010,
at the "Taste of South Lake", guests can enjoy mouth-watering offerings from the restaurants of South Lake Avenue, live radio broadcasts and live food demonstrations and tastings. Special guest appearances by Melinda Lee and Cindy Dole with music provided by K-EARTH 101. View

Printable Flyer.
The event is sponsored by the South Lake Business Association, Pacific Sales, KNX 1070 NEWSRADIO, and KFWB NEWS TALK 980 and will be held in conjunction with Pasadena's Art Weekend where guests can enjoy six events in one weekend.
Enjoy special guest appearances and themed stage events:
10:00am - 1:00pm: Melinda Lee's Live Food News Broadcast

2:00pm - 3:00pm: Cindy Dole's Live Home Wizards Broadcast

...with music from K-EARTH 101
For more information please visit Taste of South Lake or Pasadena Art Weekend. View video and slideshow of Taste of South Lake 2009!
The South Lake Business Association's monthly newsletter is a source of information and news for business and property owners within the South Lake Avenue Business District, the City of Pasadena, and residential communities. We are currently accepting submissions for the November 2010 newsletter. If you are a South Lake Avenue business or property owner and would like to participate in the newsletter, please e-mail your submission to slba@southlakeavenue.org by October 20th.
Enjoy!
The South Lake Business Association
STREETSCAPE UPDATE

Phase I of the South Lake Streetscape Improvement Project is now complete and entailed plant, irrigation and electrical upgrades to the street medians on South Lake Avenue. Phase II of the Streetscape Improvement Project is gearing up to begin shortly and involves the installation of upgraded street furniture such as benches and trash receptacles. The South Lake Business Association in partnership with the City of Pasadena are looking forward to coordinating these improvements and enhancing the overall appearance of the avenue.
Updates regarding the improvements will be available at www.southlakeavenue.org.
MARK YOUR CALENDAR
277 S. Lake Avenue | 626.792.1259
Tuesday
, November 2nd | 6:00pm - 8:00pm
The South Lake Business Association cordially invites you to join us for the South Lake Forum, a discussion on the long-term vision for South Lake Avenue. The intention of the South Lake Forum is to build on the significant successes of recent stakeholder sponsored programs and events including the Taste of South Lake, the Farmer's Market, the Safe and Clean Initiative and multi-million dollar infrastructure improvements.
Location: 277 South Lake Avenue, Pasadena, CA - View map. Event location sponsored by Kaplan Test Prep and Admissions.
Day & Time: Tuesday, November 2nd | 6:00pm - 8:00pm.
Light beverages and snacks served. Parking validation provided.
More information will be available at South Lake Forum.
HALLOWEEN COSTUME MAKE-UP
Touche Salon & Day Spa | 548 S. Lake Avenue | 626-795-8888
October 1 -31, 2010
Due to the high demand of last year's Halloween costume make-up, Touche Salon & Day Spa decided to bring it back for a second year. From October 1st - 31st, Touche Salon will be offering costume make-up starting at $65. Their make-up artist can do any look you want. View Printable Flyer.
Call ahead and reserve your spot because space fills up fast. For more information, please call 626-795-8888 or visit Touche Salon & Day Spa.
ALEXANDRIA II OFFERS CLASS
Alexandria II Bookstore | 170 S. Lake Avenue | 626-792-7885
Tuesday, October 5th | 6:30pm - 9:00pm
Spirit Communication Class:

This class is designed to develop your abilities to communicate more effectively with your Spirit Guides. A Spirit Guide refers to an entity from the higher vibrational plane of Spirit that directs, supports, heals, inspires, teaches and helps your soul while your soul is achieving wisdom in the physical plane. Become more aware of how to accept and trust in the messages already presented to you from your Guides. Learn how to develop a 'code of communication' with your Spirit Guides in this interactive and engaging class with individual and group exercises, inspirational writing, speaking and meditation techniques. Cost: $45 per person.
For more information or to make a reservation, please call 626-792-7885 or visit Alexandria II Bookstore. To learn more about Alexandria's 25th Anniversary Celebration, please view Printable Flyer.
WADDELL & REED OPEN HOUSE
175 S. Lake Avenue, Suite 201 | 626-568-2770

Thursday, October 7th
| 4:00pm - 7:00pm
Waddell & Reed is a financial services firm that has been working with individuals and businesses for over 70 years, making it one of the most established mutual fund and financial planning complexes in the country.
Join Waddell & Reed as they celebrate their new Pasadena office. Enjoy an office tour and delicious hors d'oeuvres from an assortment of their neighbors on Lake. View Printable Flyer.
For more information, please call 626-568-2770 or visit Waddell & Reed.
ONE-DAY ART AND CRAFT SALE
820 E. California Blvd. | 626-795-4991
Saturday, October 9th | 11:00am - 4:00pm
It's Craft Fair Gift Shop's 55th Anniversary and they want to share it with you! On this one day only, Craft Fair Gift Shop will feature fine art and ceramics on the patio and will offer a 20% discount on select items. There will also be an art and collectibles sale on the patio hosted by Treasure Fair Thrift Shop featuring wonderful deals on previously owned pieces.
Craft Fair Gift Shop and Treasure Fair Thrift Shop are operated by Assistance LeagueĈ of Pasadena. All proceeds support outreach efforts in the community. For more information, please visit www.pasadena.assistanceleague.org.
MACY'S SIP & SCAN EVENT
401 S. Lake Avenue | 626-792-0211

Thursday, October 14th | 6:30pm - 9:00pm
Get the star treatment at Macy's Sip & Scan Registry Event. Join Macy's Wedding & Gift Registry for an event featuring fun beverages, hors d'oeuvres, and great registry experts to help you create your dream registry. Bring your partner and they can play 007 with the scan gun while you sip your drink and approve their choices. You'll also receive a fabulous gift from Macy's. The perfect weeknight date!
For more information or to make a reservation, please call 626-792-0211 x 2640.
TO YOU, FROM ITALY
Contessa Italian Home Collection | 380 S. Lake Avenue #3
Contessa Italian Home invites you to experience the warm enchantment of the Italian home. They are now
accepting reservations for their 2010 Olio Nuovo. This first press
olive oil, a green and fragrant delight, is only available once-a-year and can be air shipped for the earliest delivery possible.
Also available direct from Modena, Italy are three incredible suggestions of traditional Balsamic Vinegar.
250 ml. 7 Travasi - Botte Piccola - Perfect for finishing risotto, meat, vegetables, fruit and cheese. Complex taste, natural sweetness and thick viscosity.

100 ml. 15 Travasi - Dop Cavedoni Ducale - Spectacular complex taste and a perfect example of what a great balsamic should be.

100 ml. 30 Travasi - Dop Cavendoni Imperatore - Extravecchio the ultimate offering for the connoisseur.
J BEVERLY HILLS DONATES
820 E. Green Street | 626-577-2002

October is Breast Cancer Awareness month which is why now through October 31st, you can donate $10 to the National Breast Cancer Foundation, Inc. and receive a FREE Pink Hair Extension to show your support. "Hair for Hope" J Beverly Hills will also donate $1.00 from every purchase of their Fragile or Everyday Shampoo and Conditioner. View Printable Flyer.
FEATURED SPACE!
Interested in opening your business in the South Lake Avenue Business District? The South Lake Business Association can help! Every month, we'll be featuring an available listing in our newsletter.

Location of Featured Space:
ASSOCIATION MEETINGS
Wednesday, October 20, 2010 | 8:00am - 10:00am
Corporate Center Pasadena
251 S. Lake Avenue, Suite 200, Pasadena - View Map!
Got News?
November 2010
e-Newsletter submissions due by
October 20th
and accepted on a first come first serve basis. Subject to availability.