TASTE OF SOUTH LAKE

JOINS ART WEEKEND AND CELEBRATES THE

ART OF FOOD!
On
Saturday, October 15, 2011
the South Lake Business Association will present the 3rd Annual "Taste of South Lake".
Enjoy mouth-watering offerings from the restaurants of South Lake Avenue and browse showcases from other South Lake Avenue businesses. This free outdoor food and wine festival offers raffle prizes, live music and a beer and wine garden. Admission is FREE.
View a slideshow of Taste of South Lake 2010!
For more information, please visit Taste of South Lake or Pasadena Art Weekend.
The South Lake Business Association's monthly newsletter is a source of information and news for business and property owners within the South Lake Avenue Business District, the City of Pasadena, and residential communities. We are currently accepting submissions for the
October 2011
newsletter. If you are a South Lake Avenue business or property owner and would like to participate in the newsletter, please email your submission to
slba@southlakeavenue.org
by
September 20th
.
Enjoy!
The South Lake Business Association
SOUTH LAKE AVENUE PARKING NEWS
The South Lake Avenue Business District has both On-Street and Off-Street Parking available to customers and visitors. Beginning September 1st, the Shoppers Lane parking policy will permit customers and visitors to park for free for the first 2 hours. After the first 2 hours, parkers must return to the meter to pay for additional time.
The parking signage in Shoppers Lane will also be updated to read as follows:
Park vehicle.
First 2 hours free, once per day.
Return to meter and pay after 2 hours for additional time.
Shoppers Lane Daily/Transient Rates: 2 hour free customer parking Monday - Saturday, 10:00am - 7:00pm, $1 per hour thereafter. Long-term parking by permit only. $5 all day. Monthly rate (employees only): $75. Hours of operation: 24 hours.
For more information regarding parking facilities and rates within the City of Pasadena please visit City of Pasadena Parking Facilities and Rates.
INTRODUCING THE STRENGTH SHOPPE!
The Strength Shoppe | 350 S. Lake Avenue #105 | 626-999-4850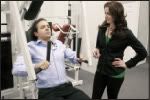 The Strength Shoppe
specializes in high-intensity strength training, commonly referred to as SuperSlowÆ, Power of Ten, or Slow Burn. High-intensity strength training is a safer, more effective, more efficient form of exercise. The complete total body workout lasts only 20 minutes once a week. Through compound movements on specialized equipment, the maximum benefits desired from exercise is achieved in minimal time.
The truly wonderful aspect about this workout is that anyone can do it. Whether you are a professional athlete or suffering from a debilitating condition such as osteoporosis, whether your goal is to lose weight or lower your blood pressure, this workout will help you achieve your health goals. And because it's only 20 minutes once a week, you can stick with it and adapt it as part of your lifestyle.

Call
The Strength Shoppe
at 626-999-4850 or visit The Strength Shoppe
to learn more about the program, and for a limited time, enjoy 25% off an initial consultation with discount code, "South Lake."
INTRODUCING CARMODY & CO.!
Carmody & Co. | 146 S. Lake Avenue #106 | 626-795-2924
F
ine stationery, invitations and unique gifts for all of your celebrations can be found at Carmody & Co. They specialize in custom invitations, from wedding to baby showers, non-profit events to birthday parties, they will create an invitation that is beyond your wildest dreams! Please visit their custom section to preview samples or stop by their store to see our complete line of custom work. In addition, they offer invitations and stationary by Crane, William Arthur, Marsupial, Karen Adams, Martha Stewart, and our newest book, Exquisite Papers, as well as many others.
At Carmody & Co. they strive to provide you with a wide variety of invitations for all occasions at a great price. They continue to offer our customers 10% off all book orders, along with any special promotions featured by various companies.
For more information, please call 626-795-2924 or visit
Carmody & Co
.
FIND YOUR MAGIC 2.0!
Macy's | 401 S. Lake Avenue | 626-792-0211

Saturday, September 16 | 1:00 pm
Discover your unique color palette based on your flesh tones, facial features, eye color and natural hair color. Join Emmy-award winning costume designer David Zyla as he helps you unlock your personal colors that will make you look and feel your best. Update your wardrobe and with any $50 purchase, receive a complimentary copy of David Zyla's book, "Color Your Style: How to Wear Your True Colors."
RSVP to 877-884-3751 by September 15th. For more information, please visit Macy's.
STAR WARS RED CARPET EVENT!
Pottery Barn Kids | 511 S. Lake Avenue | 626-405-1743
Saturday, September 17th
|
3:00pm-5:00pm
Join Pottery Barn Kids on the red carpet as they celebrate the anticipated Blu-ray release of the Star Wars saga! Dress up as your favorite character and bring your camera for a photo op, giveaways and a chance to win a Blu-ray box set! (While supplies last.)
For more information, please call 626-405-1743.
BURGER AND BEER TUESDAYS!
The Counter | 140 Shoppers Lane | 626-440-1008
Tuesdays
|
4:00pm - 10:00pm
Visit The Counter Tuesdays to mix it up! Every
Tuesday from 4:00pm to 10:00pm, The Counter offers 4 premium mini burgers with 4 beer pairings for $14.
For more information, please call 626-440-1008 or visit
The Counter
.
IN-STORE DEMOS - CAR SEAT SAFETY!
giggle | 517 S. Lake Avenue | 626-744-0233
Every weekday during the month of September from 1:30pm and 4:30pm giggle experts are offering fun, interactive and informative demos.
Monday: Graco SnugRide
Tueday: Graco SmartSeat
Wednesday: Britax Parkway
Thursday: Maxi Cosi Pria 10 or Britax Boulevard
Friday: Cybex Aton
Demos are free! No pre-registration required. Demos will run for 10 minutes each. For more information, please call giggle at 626-744-0233 or visit
giggle Pasadena
.
TAKE A BITE OUT OF CHILDHOOD HUNGER!
Corner Bakery Cafe | 345 S. Lake Avenue #107 | 626-578-1281
Join Corner Bakery Cafe in supporting
Share Our Strength's Dine Out For No Kid Hungry
and help create a future where no child in America is hungry. Visit Corner Bakery Cafe September 1st-24th to give to the cause. Corner Bakery Cafe will match your donation and treat you to a variety of tasty offers. Receive a free Whoopee Pie with a $1 donation, and with a $5 donation you'll get a book of delicious offers (over a $30 value).
ASSOCIATION MEETINGS
MONTHLY MEETING
Wednesday, September 21, 2011
|
8:00am - 10:00am
Corporate Center Pasadena
251 S. Lake Avenue, Suite 500, Pasadena - View
Map
!

FEATURED SPACE!
Interested in opening your business in the South Lake Avenue Business District? The South Lake Business Association can help! Every month, we'll be featuring an available listing in our newsletter.
Location of Featured Space:
Got News?
October
2011
e-Newsletter submissions due by
September 20th
and accepted on a first come first serve basis. Subject to availability.