SOUTH LAKE HOLIDAY CELEBRATION!
FREE

HOLIDAY FESTIVITIES - LIVE MUSIC - PRIZES!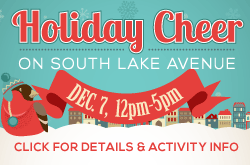 Saturday, December 7, 2013
12:00pm - 5:00pm
The South Lake Avenue Holiday Celebration is a free event, presented by the South Lake Business Association, with fun for the whole family!
Guests Can Enjoy:
Free Holiday Activities
Photos with Santa
Live Music and Carolers
A Scavenger Hunt
Holiday Characters
Horse and Carriage Rides
Holiday Crafts for the Kids
Trackless Train Rides for Kids
FREE PARKING available at Corporate Center Pasadena located at 251 S. Lake Avenue (View Map!)
Live Music Performances By:
12:00pm-5:00pm: 2AZZ1 - A fun mix of upbeat holiday music, jazz, blues & rock
3:00pm: LAC Choristers & NewSong - Holiday songs performed by children in grades one through eight
For More Information:
The South Lake Business Association's monthly newsletter is a source of information and news for business and property owners within the South Lake Avenue Business District, the City of Pasadena, and residential communities. We are currently accepting submissions for the
December 2013
newsletter. If you are a South Lake Avenue business or property owner and would like to participate in the newsletter, please email your submission to
slba@southlakeavenue.org
by
November 20th
.
Enjoy!
The South Lake Business Association
TASTE OF SOUTH LAKE HUGE SUCCESS!
On Saturday, October 12, 2013, the South Lake Business Association presented the 5th Annual "Taste of South Lake". Several thousand guests enjoyed mouth-watering offerings from the restaurants of South Lake Avenue, over $4,000 in prizes, special live cooking demos, a beer and wine garden and live music performances.
FUNDRAISER AT PODLEY PROPERTIES!
Podley Properties | 897 Granite Drive | 626-795-9571
November 9, 2013 | 5:00pm - 8:00pm
Podley Properties on South Lake hosts an art exhibit and fundraiser benefiting art programs in Pasadena public schools through the Pasadena Education Foundation. Art from local artists of all ages will be featured.
MUSIC & WINE PAIRING!
Wine Detective l 146 S. Lake Ave., #109 l 626-792-9936

November 9, 2013 | 8:00pm - 10:00pm
The acclaimed musician Roger Espinoza, the new voice of Flamenco fusion, is back at Wine Detective! Come and enjoy the music, as well as 48 wines for tasting, 50 wines by the glass, craft beer, and delicious appetizers.
Enjoy free live music starting at 8:00pm, no RSVP required. For more information, please visit Wine Detective.
ENJOY ANNIVERSARY DISCOUNT!
Pie 'n Burger | 913 E. California Blvd. | 626-795-1123
November 11, 2013 - November 15, 2013
During the week of November 11th to November 15th Pie 'n Burger will offer its lauded combo burger meal for $5, less than half its usual price. It's Pie 'n Burger's way of thanking the community for supporting the restaurant since 1963. During the same week, which begins on Veteran's Day, the restaurant will join forces with the community to support the Wounded Warrior Family Support charity. View
details
!
WILLIAMS-SONOMA ARTISAN MARKET!
Williams-Sonoma | 142 S. Lake Avenue | 626-795-5045
November 23, 2013 | 12:00pm - 4:00pm
(The last Saturday of every month)
Williams-Sonoma hosts a monthly Artisan Market outside in The Commons courtyard. The market will feature all local vendors selling products such as artisan breads, jams and preserves, chocolates, confections, flowers and fresh produce.
For more information, please visit Williams-Sonoma Artisan Market.
SIX PART WINE TASTING SERIES!
Trattoria Neapolis | 336 S. Lake Avenue | 626-792-3000

Looking for the perfect holiday gift? Neapolis has the answer for the wine lover on your list. Announcing their six part Italian wine tasting series led by their award winning Wine Director Diego Meraviglia, who recently ranked 5th in the world at the Worldwide Sommelier Association in London. Each tasting will focus on five wines from a region of focus including - Piemonte, Tuscany, Sicily, Umbria, Campania and Puglia. Savory bites will be prepared with each tasting by Chef Bryant Wigger.
Starting on October 29, 2013 running through May 27, 2014, classes cost $45 per person plus tax and gratuity. Purchase all six classes in the series and get one free! For more information please call 626-792-3000 or visit Trattoria Neapolis.
MACY'S FRIENDS & FAMILY SALE!
Macy's | 401 S. Lake Avenue | 626-792-2011

Mark your calendar and take advantage of Macy's Friends and Family sale the first weekend of December!
REAL FOOD DAILY FALL SPECIALS!
Real Food Daily l 899 E. Del Mar Blvd l 626-844-8900
Visit Real Food Daily to enjoy their spectacular fall specials and desserts! View Printable Flyer!
Fall specials include: Three Amigos, The Great Cardini, Quesadillas de City of Los Angeles, Classic Comfort and The Essence.
For more information, please visit Real Food Daily.
BEST CRAFT FAIR GIFT SHOP!
Assistance League | 820 E. Colorado Blvd. | 626-449-2068
Congratulations Assistance League for being recognized in Pasadena Weekly's Best of Pasadena! Their Craft Fair Gift Shop offers baby gifts, toys, home decor, jewelry, artwork and much more! Click to view details!
CONGRATULATIONS SOUTH LAKE!
Congratulations to the following South Lake Businesses who were voted the "Best of Pasadena" in Pasadena Weekly!

HOLIDAY SPECIALS AND PROMOTIONS!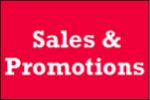 To learn more about holiday specials and promotions offered by South Lake businesses, please visit South Lake's:
NOV 12: STARTING YOUR BUSINESSES
November 12, 2013 | 8:00am - 10:00am
The City of Pasadena offers monthly seminars for small business owners, managers, and sales staff at no cost.
ASSOCIATION MEETINGS
Wednesday, November 13, 2013 | 8:00am - 10:00am
Pasadena Towers
55 S. Lake Avenue, Suite 170, Pasadena - View
Map
!
FEATURED SPACES!
Interested in opening your business in the South Lake Avenue Business District? The South Lake Business Association can help!
Got News?
December 2013
e-Newsletter submissions due by
November 20th
and accepted on a first come first serve basis. Subject to availability.