TASTES AND SOUNDS SUCCESS!


On Saturday, September 29, 2018,
Logix Federal Credit Union
presented a special 10 year anniversary celebration of "Taste of South Lake". Several thousand guests enjoyed mouth-watering offerings from over 20 South Lake Avenue restaurants, live cooking demos, musical performances and more! To view event photos, please visit
Tastes and Sounds 2018
.
Congratulations to our Trivia Game Raffle Winners:

The South Lake Business Association's monthly newsletter is a source of information and news for business and property owners within the South Lake Avenue Business District, the City of Pasadena, and residential communities. We are currently accepting submissions for the
November 2018
newsletter. If you are a South Lake Avenue business or property owner and would like to participate in the newsletter, please email your submission to
slba@southlakeavenue.org
by
October 20th
.
The South Lake Business Association
www.southlakeavenue.org
MARK YOUR CALENDAR!
FREE HOLIDAY FESTIVITIES - LIVE MUSIC - PRIZES!


Saturday, December 1st | 12:00pm-5:00pm
South Lake kicks off its holiday celebration at 12:00pm on Saturday, December 1st with family friendly activites around the District! This event is sponsored by the South Lake Business Association with fun for the whole family!
Guests can enjoy:
Complimentary Admission
Ample Parking (free and paid)
Holiday Activities
In-Store Specials and Promotions
Photos with Santa
Horse and Carriage Rides
Holiday Characters
Live Music and Carolers
A Scavenger Hunt
Holiday Crafts for the Kids
For more information, please visit South Lake Holidayfest Celebration.
NEW ON THE BLOCK!

Cauldron Ice-Cream | 526 S. Lake Avenue |

626-639-3560




At Cauldron Ice Cream they believe in the perfect unity of innovation and tradition. Their goal is to reinvent ice cream in a way that is so good, it will make people fall in love with ice cream all over again.

With their liquid nitrogen + sweet creamy base are a match made in ice cream heaven. Not only is it mesmerizing to watch foggy liquid nitrogen create ice cream in seconds flat, it also makes for the creamiest, freshest ice cream you will ever eat. Paired with their now famous Puffle Cone, it will definitely take you back to a better time.

Lastly, they want to center everything they do around community. Creating a space to enjoy each others' company one scoop at a time.

For more information, please visit Cauldron Ice Cream.
NEW ON THE BLOCK!

Mendocino Farms | 238 S. Lake Avenue |

626-773-3140




Mendocino Farms main goal is to enrich the lives of all it touches, whether that's the farms and food artisans they partner with to source ingredients for the menu, the team members they rely upon to provide exceptional hospitality every day, or the guests who choose to seek them out.


Their larger idea is to create neighborhood gathering places where friends, families, and coworkers can come together over a good meal, and maybe even learn something new about a local farm or a special seasonal ingredient. Conceiving of their sandwich shops as a means to build community helps them to elevate the restaurant into a resource.


At Mendocino Farms they choose to open their doors each day with the conviction that even something as simple as a sandwich shop can make a difference in peoples' lives-that's why they say that they don't just sell sandwiches, They Sell Happy.

For more information, please visit Mendocino Farms.
CONTESSA'S NEW OLIVE OIL

Contessa Foods Collection | 380 S. Lake Ave., #111 |

626-765-9913




This year at Contessa, an Extra Virgin Pre-order announcment is coming with Extraordinary excitement for presenting a new product: NUOVO by PRUNETI - A blend of Moraiolo, Leccino, Frantoio and minor varieties. Characteristics: Balanced but eclectic, perfect harmony for pairing with every food. Flavor: Predominant notes of radicchio, artichoke, chard, spinach, asparagus and green olive. Aroma: Bitterness sensations prevail accompanied by notes of green vegetables. It ends with spicy of green pepper.

For more information, please visit Contessa Foods Collection.
TEN THOUSAND VILLAGES EVENTS!

Ten Thousand Villages | 567 S. Lake Avenue |

626-229-9892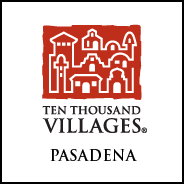 Mindful Holiday Eating

October 17, 6:00pm-7:00pm

Learn how to indulge in good food without "stuffing yourself."
Go home with a refreshed outlook at food as a way to wellness and balance, and a recipe card picked out from one of their special fair trade cookbooks. Donation based $10.


Zero Waste Re-fill Station Pop-Up
October 20, 10:00am - 3:00pm
Practice zero waste
for your everyday life! Come refill or find in bulk all the best of your daily necessities at TTV - soaps, shampoos, conditioners, cleansers, laundry detergent, baking soda free deodorant, ingredients to DIY - all available together in one convenient location. Bring your own refillable containers or buy one on site. All eco-friendly product.

For more information regarding Ten Thousand Villages and their events, please visit Ten Thousand Villages.
ASSISTANCE LEAGUE REMODEL

Assistance League Pasadena | 820 E. California Blvd. |

626-449-2068




Open Wednesday - Saturday 11:00am - 4:00pm
The Craft Fair Gift Shop is a unique gift shop sponsored by Assistance League as a philanthropic program to benefit senior exhibitors. The Craft Fair Gift Shop has a brand new look, so plan on coming by to purchase fall and Halloween decorations, baby items, one of a kind ceramics and jewelry. They are located off of South Lake Avenue and California Boulevard.


If you see a school bus out front on Hudson, know that Pasadena students are there to receive uniforms as a part of another Assistance League philanthropic program!
For more information, please visit their
Assistance League Pasadena
or call 626-449-2068.
STAY CONNECTED TO PASADENA PD
Learn more about crime in Pasadena neighborhoods through
Nixle
and
Crimemapping
. Nixle is a community information service that provides updates via email and text message, while Crimemapping provides updates using an interactive map. Please visit
www.nixle.com
or
www.crimemapping.com
for more information. A reminder to dial 9-1-1 for emergencies. For non-emergencies, please contact Pasadena Police at 626-744-4241.
SLBA BOARD OF DIRECTORS
South Lake Avenue property owners and business owners interested in volunteering and serving on the Board of Directors should email
slba@southlakeavenue.org
.
ASSOCIATION MEETINGS
MONTHLY MEETING
Wednesday, October 17, 2018 | 8:00am
140 S. Lake Avenue, 2nd Floor Conference Room, Pasadena - View Map!


Property owners and business owners located within the South Lake Business District are encouraged to attend association meetings. Click here to view SLBA meeting schedules. Click here to learn more about the South Lake Business Association.

*Meeting dates, times and locations are subject to change. For more information regarding upcoming meetings, please visit www.southlakeavenue.org
FEATURED SPACES!
Interested in opening your business in the South Lake Avenue Business District? The South Lake Business Association can help!
Location of Featured Space
:
535 S. Lake Avenue -
View Details & Map
!
Click to view a list of featured spaces at
South Lake Leasing Opportunities
.
LEARN ABOUT SOUTH LAKE!


Got News?
November 2018
e-Newsletter submissions due by
October 20th
and accepted on a first come first served basis. Subject to availability and editing.