HAPPY NEW YEAR!
On behalf of the South Lake Business Association and its Board of Directors, we would like to wish everyone a happy and prosperous 2019!
SOUTH LAKE HOLIDAYFEST!


Thousands of guests participated in this years Holidayfest on South Lake Avenue.
Guests enjoyed free family friendly holiday activities such as horse and carriage rides, in-store promotions, live music, holiday crafts, carolers, holiday characters, photos with Santa, a scavenger hunt and over $6,200 in prizes!
The South Lake Business Association's monthly newsletter is a source of information and news for business and property owners within the South Lake Avenue Business District, the City of Pasadena, and residential communities. We are currently accepting submissions for the
February 2019
newsletter. If you are a South Lake Avenue business or property owner and would like to participate in the newsletter, please email your submission to
slba@southlakeavenue.org
by
January 20th
.
The South Lake Business Association
www.southlakeavenue.org
2018 AT A GLANCE!


Thank you to everyone who supported, participated in and attended South Lake events in 2018! Take a look back at the memories made and look forward to more of these moments in 2019. Enjoy the following pictures!
NEW ON THE BLOCK!

Dan Modern Chinese | 146 S. Lake Avenue, #105 |

626-817-9799




Dan
Modern Chinese eatery specializes in dumplings and noodles. The bright woods and modern furnishings of the interior at Dan feel right at home at The Commons' collection of slick eateries, but it's the food where the restaurant might make a serious mark on the SGV dining landscape. Unlike the typical SGV-Chinese, where restaurant menus can span multiple pages and dozens of items, the menu at Dan is brief and focused. Owner James Kim is intent on playing some of Chinese cuisine's greatest hits for his Pasadena audience, with an attention to detail that would do the dishes justice.


For more information about Dan Modern Chinese and store hours, please visit Dan Modern Chinese.
TEN THOUSAND VILLAGES EVENTS!

Ten Thousand Villages | 567 S. Lake Avenue |

626-229-9892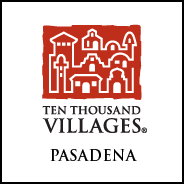 Welcome 2019 With Laughter, Wellness!

Saturday, January 19th
l
5:30pm-7:00pm

Discover an innovative and refreshing path to unlocking your smiles and stretch your experience of joy while promoting multiple aspects of well-being.

You will learn sound, simple and effective strategies for laughing away stress, tension and pressure in minutes! Expect to get a healthy D.O.S.E. of well-being (Dopamine, Oxytocin, Serotonin, Endorphins) coming straight out of your own inner cellular pharmacy.

View ticket sales.

Pasadena, CA's Fair Trade Rug Event
Wednesday, January 23rd-27th | 10:00am-5:00pm
Come and explore their large selection of Tribal, Bokhara, and Persian rugs during this special, limited-time event. From classic to contemporary, from sizes 2'x3' to 10'x14', and a large collection of rounds, squares, and table runners, we have the piece you're searching for! For event details, visit CA's Fair Trade Rug Event.


Pasadena CA's Loom to Room Info Session

Thursday, January 24th l 6:30pm-8:00pm
Come spend the evening with the rugs and hear the history and stories behind Bunyaad Fair Trade rugs. Get a glimpse into the creative process and artful creation from the dyeing of the wool to the fringes. Hear insider tips and tricks for styling and caring for your rug from all of life's little messes that may spill on to them!
For more information, visit
Ten Thousand Villages
or call
626-229-9892
.
WAX PASS PROMO!

European Wax Center | 569 S. Lake Avenue |

626-449-5000




Strut More. Save More. Promotion - For the month of January save on all of European Wax Center's new and favorite products! Buy 1 product, and receive 10% off. Buy 2 products, and receive 15% off. Buy 3 products, and receive 20% off. Buy 4 products, and receive 25% off!
For more details, speak to a guest service associate at European Wax Center on South Lake at
626-449-5000 or visit European Wax Center.
AWARD WINNING GIFT SHOP!
Craft Fair Shop | 820 E. California Blvd. | 626-449-206


Holiday Open Hours
Craft Fair Gift Shop sends a big thank you to all their holiday shoppers. Holiday hours are as follows: Thursday December 27th - Saturday December 29th, and

reopens on Wednesday January 9th at 11am.
Closed Hours:

Closed the first week of January.

Remember that the items you buy at Craft Fair help their senior exhibitors supplement their income (75% of the sale price is returned to each crafter) and also add to their sense of purpose. Membership in Assistance League of Pasadena is also a great way to fulfill your New Year's resolution of volunteerism.

For more information contact Craft Fair Gift Shop at 626-449-2068 or ALPasadena@sbcglobal.net.
CHRISTMAS TREE COLLECTION


COMMUNITY WORKSHOPS


Join the Planning and Community Development Department as the team shares preliminary concept ideas for the East Colorado Specific Plan area.


For more information, visit Our Pasadena or call 626-744-4591.
CONNECT TO PASADENA PD


Learn more about crime in Pasadena neighborhoods through
Nixle
and
Crimemapping
. Nixle is a community information service that provides updates via email and text message, while Crimemapping provides updates using an interactive map. Please visit
www.nixle.com
or
www.crimemapping.com
for more information.
A reminder to dial 9-1-1 for emergencies. For non-emergencies, please contact Pasadena Police at 626-744-4241.
ASSOCIATION MEETINGS

ANNUAL MEETING
Wednesday, January 16, 2019 | 8:00am
140 S. Lake Avenue, 2nd Floor Conference Room, Pasadena -


View Map!

Property owners and business owners located within the South Lake Business District are encouraged to attend association meetings. South Lake Avenue property owners and business owners interested in volunteering and serving on the Board of Directors should email slba@southlakeavenue.org. Click here to view SLBA meeting schedules. Click here to learn more about the South Lake Business Association.


*Meeting dates, times and locations are subject to change. For more information regarding upcoming meetings, please visit www.southlakeavenue.org
FEATURED SPACES!
Interested in opening your business in the South Lake Avenue Business District? The South Lake Business Association can help!
Location of Featured Space
:
475 S. Lake Avenue -
View Details & Map
!
Click to view a list of featured spaces at
South Lake Leasing Opportunities
.
LEARN ABOUT SOUTH LAKE!


Got News?
February 2019
e-Newsletter submissions due by
January 20th
and accepted on a first come first served basis. Subject to availability and editing.