SOUTH LAKE'S HOLIDAYFEST!
FREE HOLIDAY FESTIVITIES - LIVE MUSIC - PRIZES!


Saturday, December 7th | 12:00pm-5:00pm
South Lake kicks off its holiday celebration at 12:00pm on Saturday, December 7th with family friendly activities around the District! This event is presented by the South Lake Business Association with fun for the whole family!



GUESTS CAN ENJOY:
Complimentary Admission

Ample Parking (free and paid)

In-Store Specials and Promotions

A Scavenger Hunt

Photos with Santa

Holiday Characters

Live Music and Carolers

Holiday Crafts for the Kids
CLICK TO VIEW!
FOR MORE INFORMATION:
Please visit South Lake Holidayfest Celebration!
Details subject to change.
Event occurs rain or shine so please dress weather appropriate.
If you have a disability and require assistance, please call SLBA at 626-792-1259 at least 5 days prior to the event date. ADA restrooms and parking are available throughout the event. Further information can be viewed at https://www.southlakeavenue.org/events/event-faq/
The South Lake Business Association's monthly newsletter is a source of information and news for business and property owners within the South Lake Avenue Business District, the City of Pasadena, and residential communities. We are currently accepting submissions for the
December 2019
newsletter. If you are a South Lake Avenue business or property owner and would like to participate in the newsletter, please email your submission to
slba@southlakeavenue.org
by
November
20th
.
The South Lake Business Association
www.southlakeavenue.org
MORE TASTES & SOUNDS WINNERS!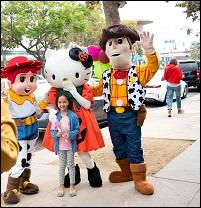 On Saturday, September 28, 2019, Logix Federal Credit Union presented "Taste and Sounds Fall Crawl 2019". Guests enjoyed over 29 participating businesses, in-store promotions, a vendor village and musical performances from internationally known bands. To view event photos, please visit

Tastes and Sounds 2019.



Congratulations to our In-Store Raffle Winners:
Tina W. from Pasadena - Ferguson Hand Shower
Ruth R. from Los Angeles - Pacific Sales Kohler Bidet (value $100)
BOOK A HOLIDAY PARTY & MORE!



The Holidays are fast approaching, it's time to book that Holiday dinner, meeting, or event! To learn more about holiday specials, promotions, and available party bookings offered by South Lake businesses and restaurants, please visit South Lake's Events Calendar, On-line Directory, Twitter, Facebook and Instagram.
NEW ON THE BLOCK!
See's Candies | 370 S. Lake Avenue | 626-578-1479


Since 1921, See's Candies and chocolates have been made from scratch in the See's candy kitchens. Using fresh ingredients, time-honored recipes and techniques, their Candy Makers truly make magic happen! Be sure to stop by and get one or a bundle of gifts for those extra sweet people in your life!

REMINDER:
This store is only on South Lake Avenue for a limited time as a pop-up location.


For more information on See's Candies and store hours, please visit See's Candies.
COMING SOON!
Barry's Bootcamp | 326 S. Lake Avenue


Barry's is the global destination to get the best workout of your life. They are dedicated to changing lives worldwide through their workouts and community. The Best Workout in the World™®. Founded in West Hollywood in 1998, and known for their strength and cardio interval fitness experience that provides a dynamic, high-intensity workout that's as effective as it is fun.


HOLIDAY DRESS EVENT!
Macy's | 401 S. Lake Avenue | 626-792-0211


The Holidays begin at Macy's, so come find your perfect party dress for every holiday occasion! Enjoy a fabulous showcase of their hottest holiday trends and shop the newest holiday accessories to complete your outfit. View Printable Flyer for more information about the Holiday Dress Event on
November 9th at 2:00pm. You can also take advantage of the Friends and Family 30% off discount.
For more information please visit
Macy's
or call 626-792-0211.
FREE ADJUSTABLE BED UPGRADE!
Custom Comfort Mattress | 414 S. Lake Avenue | 626-667-3000


For close to twenty-five years Custom Comfort Mattress has been creating the finest mattresses that money can buy. They offer a firm to soft feel with everything in between. Custom Comfort Mattress uses time-honored techniques, the finest raw materials, and the most precious resource of all, the passion of craftsmanship. Get a FREE adjustable upgrade with the purchase of a Natural or Above Mattress set.

For more information please visit Custom Comfort Mattress or call 626-667-3000.
FIRST WAX FREE!
European Wax Center | 569 S. Lake Avenue | 626-449-5000


First-Time Guest? Let European Wax Center treat you to a complimentary wax! First-time guests can enjoy a complimentary brow, underarm or bikini line wax for women or ear, nose or brow for gents.

For more details and to book a reservation, please speak to a guest service associate at European Wax Center South Lake at 626-449-5000 or visit European Wax Center.
EXTRAORDINARY DINNERS!
Contessa Foods Collection | 380 S. Lake Ave., #111 | 626-793-7761


In December Contessa Foods Collection has planned four extraordinary dinners with Tuscan Chef Daniele who will be leaving his restaurant Antico Ristoro Le Colombaie and spending two weeks at Contessa Foods Collection to share favorite Tuscan recipes.

Space is limited and reservations are required. For information, please visit Contessa Foods Collection or call 626-793-7761.
GOT CATERING?

Republik Coffee Lounge | 854 E. Green Street |

626-529-3714




Republik Coffee Lounge was designed with you in mind. They aim to elevate your daily morning ritual into a grand experience. Each element of our menu from glass to plate was carefully chosen, all to show you that life is too short to drink bad coffee. They can now bring that same experience to your next event or office meeting.


For information about catering services, please visit
Republik Coffee
or call
626-529-3714.
FREE ADA WORKSHOP
The Rococo Room | 70 W. Union Street | 626-744-4660


The City of Pasadena is hosting a free workshop for Pasadena business owners interested in learning about federal and state accessibility requirements and resources. "The ABCs of ADA for Businesses" will be held on Tuesday, November 12, 2019 at The Rococo Room (70 W. Union Street, Pasadena, CA 91103).

For information, please visit Printable Flyer or to RSVP please visit Eventbrite.
CITIZEN SERVICE CENTER APP


The Citizen Service Center (CSC) is a centralized service to help Pasadena residents connect with their City! CSC is available via web, LiveChat,
mobile app
and phone to assist in answering questions about City programs, services and events. Their knowledgeable representatives can help you find the information and assistance you need!
CONNECT TO PASADENA PD


Learn more about crime in Pasadena neighborhoods through
Nixle
and
Crimemapping
. Nixle is a community information service that provides updates via email and text message, while Crimemapping provides updates using an interactive map. Please visit
www.nixle.com
or
www.crimemapping.com
for more information.
A reminder to dial 9-1-1 for emergencies. For non-emergencies, please contact Pasadena Police at 626-744-4241.
COMMUNITY WORKSHOPS


Join the Planning and Community Development Department as the team shares preliminary concept ideas for the East Colorado Specific Plan area.


For more information, visit Our Pasadena or call 626-744-4591.
ASSOCIATION MEETINGS

MONTHLY MEETING
Wednesday, December 11, 2019 | 8:00am
140 S. Lake Avenue, 2nd Floor Conference Room, Pasadena - View Map!



Property owners and business owners located within the South Lake Business District are encouraged to attend association meetings. South Lake Avenue property owners and business owners interested in volunteering and serving on the Board of Directors should email slba@southlakeavenue.org. Click here to view SLBA meeting schedules. Click here to learn more about the South Lake Business Association.

*Meeting dates, times and locations are subject to change. For more information regarding upcoming meetings, please visit www.southlakeavenue.org
FEATURED SPACES!
Interested in opening your business in the South Lake Avenue Business District? The South Lake Business Association can help!
Location of Featured Space
:
345 S. Lake Avenue, Suite 112
View Details & Map!
Click to view a list of featured spaces at
South Lake Leasing Opportunities
.
LEARN ABOUT SOUTH LAKE!


Got News?
December 2019
e-Newsletter submissions due by
November 20th
and accepted on a first come first served basis. Subject to availability and editing.